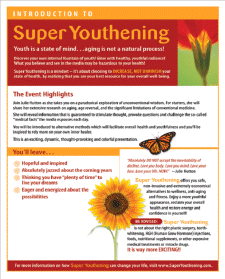 Super Youthening™
Experience Exhilaration, Excitement, Energy in Abundance
Forget everything you thought you knew about aging. Get into Super Youthening, the revolutionary concept that teaches you anew about long life, vigorous health and a lively, positive state of mind.
Look around you, on TV, on the web, in newspapers and among people you know. Everywhere, there are inspirational examples of people in their 80s, 90s and even centenarians who are not only enjoying great health but also achieving great things – writing books, sky-diving, gaining college degrees, performing on stage. 
The Super Youthening program can help you follow in their footsteps:
Live life to the full and turn your
back on aging.
This is not a dream. People are doing it all the time. And life coach Julie Hutton has spent years studying, researching and understanding their secrets and putting them to work for her. Now, she is passing on this wisdom through one-on-one coaching, small group workshops and a forthcoming book. 
Free articles 
We humans now live, on average 50% longer than people did in the 1900s. But that, says Julie, is only the start. Healthy longevity, reaching into the 120s and beyond could soon be the norm. 
Learn more about Super Youthening now by downloading these free articles:
You'll be amazed by what you learn about current scientific research that shows how you can change your mindset and gain a new lease of life.
Want to know more?
Contact Julie for information about one-on-one coaching.
Click here to email
, or call 425.260.4440.
Want to buy the forthcoming Super Youthening book?
Email Julie
and she will tell you how you can download this book as soon as it's available.
Also learn more about Julie's other life foundation programs,
Breathe 123
– book now available, and
Charisma 123
.
Prepare to be amazed!